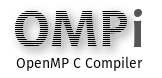 The source code of OMPi is available here; the compiler has been tested on a variety of Linux, Solaris, Irix and Windows (Cygwin) machines. Actually the only system requirements are the availability of the POSIX Threads (pthreads) library and a native C compiler (e.g. gcc).
The most recent stable version is 2.0.0. This is the first version targeting OpenMP V4.0.
Version
Link
Notes
2.0.0
Download
» initial support for OpenMP 4.0 (device, cancellation, taskgroup constructs)
» includes seamless support for the Parallella-16 board
» major reorganization of the compiler and runtime trees
» improvements everywhere
» bug fixes
» implementation-defined OpenMP behaviors for OMPi (HTML, PDF).
1.2.3
Download
» OpenMP 3.1
» addition of a process library (with Sys-V IPC)
» tasking improvements
» bug fixes
1.2.2
Download
» support for most parts of OpenMP 3.1
» tasking improvements
» experimental tasking support in psthr (psthreads V1.0.4 required)
» bug fixes
1.2.0
Download
» full OpenMP 3.0 support
» runtime system enhancements
» bug fixes
» dropped a few thread libraries (availabe on request)
1.1.0
Download
» OpenMP 3.0 support (most parts)
» restructured runtime system
A special OMPi for parallella (OBSOLETE)
Please download version 2.0.0 of OMPi (see table above).
Below you can find a special version of the OMPi compiler that runs on the Parallella board. OMPi supports OpenMP at the host part (Zynq) and can offload kernel code onto the Epiphany multicore accelerator (treating it as an OpenMP v4.0 device) by utilizing omp target pragmas. Among other things, multiple and concurrent kernels are supported. Please keep in mind this is a beta release.
Version
Link
Notes

parallella-b2

(obsolete; no longer supported)

Download
» OpenMP support within the Epiphany
» Enhancements and bug fixes
» Consult the included README file

parallella-b1

(obsolete; no longer supported)

Download
» First public release (beta)
» Source code will be available shortly
» Consult the included README file